"I never left...."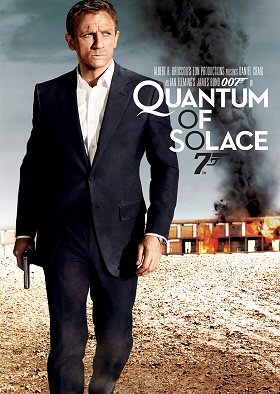 -
After 20 Bond films and the franchise's low point with the decade of 007 disappointment known as the Pierce Brosnan-starred James Bond films, it would not have been unjustifiable to doubt the likelihood of the Bond films ever returning to the danger and plausible fantasy of the films seen in the 1960s and late-1980s. However, the twenty-first Bond film, Casino Royale (2006), did just that and more - being one of the best Bond films ever made as well as breathing new life into the Bond franchise. The twenty-second film of the 007 series, Quantum of Solace (2008), continues what Casino Royale started and, although perhaps not eclipsing its predecessor, is a very fine follow-up for the 007 series. Picking up where Casino Royale left off (seriously, the story beings somewhere around a half-an-hour where we last left Casino Royale), Quantum of Solace sees Bond dealing with events from Casino Royale as well as investigating a newly discovered evil organization.

Quantum of Solace is a brilliant 007 entry: an energetically stylish and magnificently unusual addition to the James Bond film series. Not bogged down by any particular franchise cliché or formula, Quantum of Solace is a unique film within the Bond franchise. If you are looking for over-the-top gadgetry, pointless banter with Moneypenny or Q, catchphrases, bimbos, or megalomaniacal villains in your Bond films, Quantum of Solace may disappoint. In this Bond film, the story is dark and grounded with Bond lost on his own in a dark place and mad as hell. Unlike some films within the Bond series, James Bond is not an action-hero caricature, he is a human being who does great things. In his second James Bond outing, Daniel Craig somehow manages to equal his previous amazing performance in Casino Royale. Here in Quantum of Solace, Craig is at the top of his game with a cool but subtle performance of his very human James Bond: tormented, dangerous, and serious about what needs to be done.

Craig is supported very well - with many of the supporting actors reprising their roles from Casino Royale. Judi Dench makes a great showing as M, her character having a very entertaining role to play; Giancarlo Giannini returns as Bond's ally Mathis, giving one of the most emotional performances of the film; and Jeffrey Wright comes back to the Bond franchise as Bond's CIA friend Felix Leiter, developing the character further and just being as cool as can be. Bond Girls Olga Kurylenko and Gemma Arterton go beyond the stereotypical Bond Girl eye candy role and give impressive acting efforts - Kurlenko especially. Also, Mathieu Amalric plays the film's main villain: Dominic Green. Perhaps one of the least quirk-filled Bond villains, Amalric's Dominic Greene character is nonetheless one of the best villains of the series: he is sublimely entertaining as the weasel-like evil and completely insane villain.

The shortest Bond film ever to date (clocking in at 106 minutes); Quantum of Solace is also one of the most stylish, action-packed and character-oriented.
Having never done an action film before, director Marc Forster proves that he was the right man to sit in the director's chair. Forster creates a stylish, taut, thrilling, moving, adrenaline rush of a Bond film. Luckily for us viewers, along with Forster putting his directing talents to great use, he also brings along his long-time collaborated cinematographer Roberto Schaefer to light the film. What a fantastic looking film Quantum of Solace is! It has a grainy and gritty yet bright and classic look to it - and Schaefer must have had fun bouncing light off of the fantastic art direction.

Casino Royale writers Neal Purvis and Robert Wade (with a little help from Paul Haggis) produced another wonderful script.
Even though the film's title is based on the Ian Fleming short story of the same name and the script borrows a chapter from Ian Fleming's Casino Royale novel, Quantum of Solace is a mostly original story that piggy-backs onto the story seen in the previous 2006 Casino Royale film. Despite being created during a writers strike, burdening the remaining filmmakers who were left to finish what was written for the film,
Quantum of Solace is easily one of the best written Bond films with an array of i
ntelligent, character-centered, funny and thrilling elements.
No better example of the quality in the writing, direction and acting within Quantum of Solace exists than the film's beautiful finale. Giving a powerful end to the story that began in Casino Royale, it also gives a taste of what is to come with the franchise. Bond is now a more seasoned agent with valuable experience; he has grown as a person and has put his armor back on: JAMES BOND WILL RETURN.
CBC Rating: 9/10